A 4 Days Desert Trip to Marrakech
We provide a 4 Days Desert Trip to Marrakech where you may explore the stunning Moroccan Desert. See ancient places, stop by traditional Berber communities, take in the breathtaking natural scenery, and get a taste of Morocco's rich cultural legacy. Knowledgeable instructors and comfortable transportation are provided on This 4 Days Morocco Travel.
Go through the Moroccan Sahara desert on a 4 days Sahara desert Tour. Spend a beautiful night in a tent, see traditional nomads, and take in stunning sand dune sunsets and sunrises. Explore the Todra Gorges, the Dades Valley, and the ancient Kasbah of Ait Ben Haddou in this 4 Days Morocco Travel. See the bustling marketplaces and indulge in some delectable native food in Marrakech before your 4 Days Desert Trip To Marrakech is over. Transportation in comfort and professional guides are provided.
Day 1 : Arrival in Errachidia - Merzouga
Our crew will pick you up from the airport on the first day of your 4 days Morocco Travel , and we'll begin traveling to the Merzouga Sahara desert, which is situated in the country's southern region. We'll have a typical Moroccan meal when we get to Merzouga and stay there the night.
Day 2 : Exploration of Merzouga
the 4 Days Desert Trip to Marrakech continues, Following breakfast, we visit an old eyeliner mine before going to see the nomads and their intricately woven tent. While sipping a cup of Berber tea, you'll discover more about their customary way of life. The Gnaoua people, who originated in sub-Saharan nations including Mali, Sudan, and Niger, are housed in Khamlia village. You may take in the distinctive Gnaoua dance and music performances here. After dining out for lunch, we'll stroll through a palm grove and travel a little distance to witness Merzouga's wild lake, also known as the flamingo lake.
In the afternoon, you swap on camels and travel the sandy desert, stopping to watch the sunset on top of a high dune, before continuing to the luxury camp. You may listen to Berber drum music while dancing around a campfire beneath a starry sky. Dinner and an overnight stay in the camp are included.
Day 3 : Merzouga Sahara, Rissani, Erfoud, Todra Gorges, Dades Valley
Following a tour around Rissani Souk, we travel to Erfoud, where we visit one of the fossilized marble workshops. Afterwards on your 4 Days Desert Trip to Marrakech, we travel through the palm groves of Touroug and Tinjdad to reach the Todra Gorges. The Todra River has formed a huge canyon through the mountains, resulting in a steep red cliff-sided canyon. These gorges are perfect for rock climbers. Feel free to roam around the gorges and take in the scenery. Lunch at a restaurant is optional. Afterwards we proceed to the Dades valley, passing via Boumalne Dades. Stopping at the "monkey fingers" rock formation is unavoidable. And on a peak with a view of the Dades valley. Eventually, dinner and a motel stay.
Day 4 : Dades Valley, Roses Valley, Palm Groves of Skoura, Ouarzazate, Ait Ben Haddou Kasbah, High Atlas Mountains and Marrakesh
On the fourth and final day of your 4 Days Sahara Desert Tour, we will continue our journey to Kalaa Magouna to visit the Rose valley, followed by a drive through the palm groves of Skoura. Next, we will visit the City of Ouarzazate, known as the gate of the desert, and explore the famous movie studios. Our next stop will be the world-renowned Kasbah of Ait Ben Haddou, a fortified village recognized as a World Heritage Site by UNESCO, and featured in numerous movies and TV series, including Game of Thrones. Finally, at the end of your 4 Days Morocco Travel from Marrakech we will drive through the High Atlas Mountains and stop at various interesting spots for lunch and photo opportunities before reaching Marrakesh, where we will drop you off at the airport or your accommodation.
* Transportation both with A/C and Fuel
* Service of pickup and drop-off
*English/Spanish/ french speaking driver
* Medina's official guide
* Camel trip and overnight in the Desert Camp(per Person)
*Monument admission costs.
! Please note that the tour itinerary provided on our website is just a suggestion. We understand that every traveler has unique preferences and interests, so we are happy to work with you to create a custom itinerary tailored to your needs. Simply share your plans and ideas with us, and we will do our best to make it a reality. Contact us today to start planning your dream vacation in Morocco!
Epic 4 Days Desert Trip To Marrakech ​- Morocco Service Tours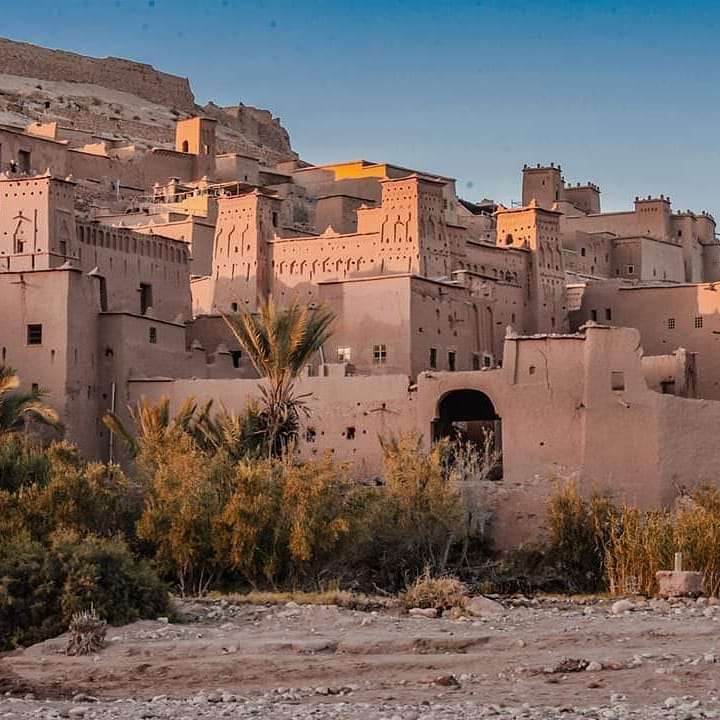 We provide a 4 Days Desert Trip to Marrakech where you may explore the stunning Moroccan Desert. comfortable transportation are provided.
Product Brand: Morocco Service Tours
Product In-Stock: InStock